Social Media Is Not A Bringer Show!
Posted by Nichelle
|
Wednesday, 20 March, 2013
|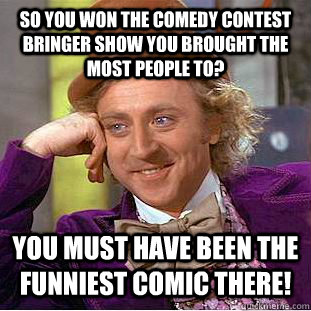 Lately, more people are doing social media and part of that is a numbers game. Like an amateur comedian just starting out, you have to have a certain amount of people coming to the show to perform. In the comedy world, this is known as a bringer show. If you have a friend who is just starting out doing comedy, then you know about the dreaded bringer show where comedians can only perform if they get enough people to come to the show. Similarly, some people have social media gigs which require a certain amount of engagement on a weekly or daily basis. To reach these numbers, some social media coordinators will reach out to the friends repeatedly for "Likes", "Retweets", "Followers". I don't mind when someone sends me something and politely asks if I would consider spreading the word to my community. However, I really dislike when people send me a "sample tweet" in the hopes that I will simply copy, paste and tweet out to the world.
First of all, I recommend  social media professionals to stop over-promising to clients. Building social media presence is a long term process. If a client wants  1000 new followers a month, then don't take the job. They can just buy twitter followers if they need the numbers so badly. Secondly, the strain that you may be putting on your friendships is not worth it. It is better to find which subset of friends who may be interested and message them. Stop sending blanket updates to everyone and please don't beg for RTs. If you treat social media outreach like a bringer show, no one will come and the joke will be on you.
Categories: me, twitter