Hurricane Harvey: How You Can Help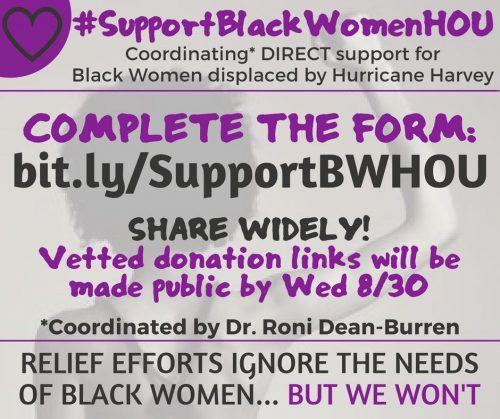 "Houston, we have a problem."  – It's a quote that is overused, but it is relevant with Hurricane Harvey hitting Houston right now.  Houston is the 4th largest city in the country, and the city is under water. This is worse than Matthew, Katrina or Superstorm Sandy.
Black women are helping black women during this crisis. Dr. Roni Dean-Burren is collecting the information of Black women who need help due to the hurricane.
Please encourage Black women to go to this link http://bit.ly/SupportBWHou and put their cash app info in!
I will make all cash app links public on tomorrow…..they will begin receiving money tomorrow. I have faith in that!
Categories: women